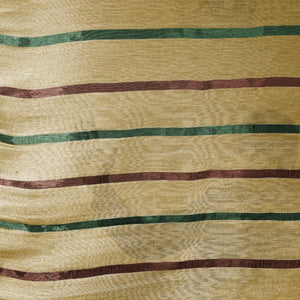 Tapistelar textiles, dyed from natural pigments, are completely handcrafted, combining traditional Colombian hand-weaving craftsmanship with a creative approach and modern patterns. Thanks to a team of experienced craftsmen, each piece can be customized in terms of size. 
Colors: Sand, Terracotta, Green (no metal threads)

Approx thickness: 0.2 cm


Max possible width 2,50 meters; length unlimited.
We weave custom made textiles according to your specific needs! Contact us for inquiries. 
Materials
All of our Tapistelar textiles are made to order by artisans in manual looms from furcraea and copper, brass or stainless steel threads, so slight color variations or other effects between the final product and the photos may be found: this makes the pieces even more unique.
Style
Flat woven textile. High transparency.
Lead Time
Beauty needs time, doesn't it?  It takes up to 8 weeks to hand made this beautiful piece and that is what makes us different. Waiting for something totally custom made makes it even more special and it's totally worth it, trust us! 
Returns 
Because you order is only made for you, returns cannot be accepted.